Thank you for supporting SHAP with your donation
Fundraising is vital to our work. It helps to pay for the support that we give to vulnerable people. Without your donation, we simply wouldn't be able to carry on with a lot of the things that we do.
Your donation of:
£10 will help pay for a Project Worker to take a young parent and her child to the local nursery for the first time
£30 will pay for a Project Worker to advise a teenager on how to manage their money
£15 will pay for a Project Worker to help to settle a homeless family into a temporary home
£30 will help us to support a homeless family in finding a place to live
£30 will contribute to the costs of providing support sessions to help someone reduce their drinking.
£25 will cover the cost of a Boxing Day meal for young parents and their children
£30 will pay for a group cooking session with three teenage parents
£35 will pay for a two hour coaching session with a vulnerable client, helping them to avoid more crises and take control of their life.
£130 will pay for us to provide furniture for a young homeless person's new flat.
Any donation – from £5 to £100 – can help us run activities and trips for children and young people; provide them with equipment or help our staff to give them the support they need.
We are registered with several online giving sites which allow you to make single or regular donations using your credit or debit card:
Just Giving
The Giving Machine
Amazon Smile
By post:
SHAP
2nd Floor, Lakeside Buildings
Alexandra Business Park
Prescot Road
St Helens  WA10 3TT
Please don't send cash in the post.
Cheques should be made payable to: SHAP Ltd
Gift aid it! If you are a UK tax payer please complete and return a gift aid form.
Leave a Legacy! By leaving a Gift to SHAP in your will you will help us fight homelessness.
Our Just Giving Pages
Just Giving
This website allows you to donate to Shap with a credit or debit card online.
The Giving Machine
If you shop on-line you can generate donations to Shap at no cost to yourself – the sales commission that on-line retailers generate is converted into charitable donations.
So next time you shop on-line why not generate a donation to Shap?
It's really easy – just start your shopping by visiting The Giving Machine (type 62012 in the search box and you will be taken to the screen shown below).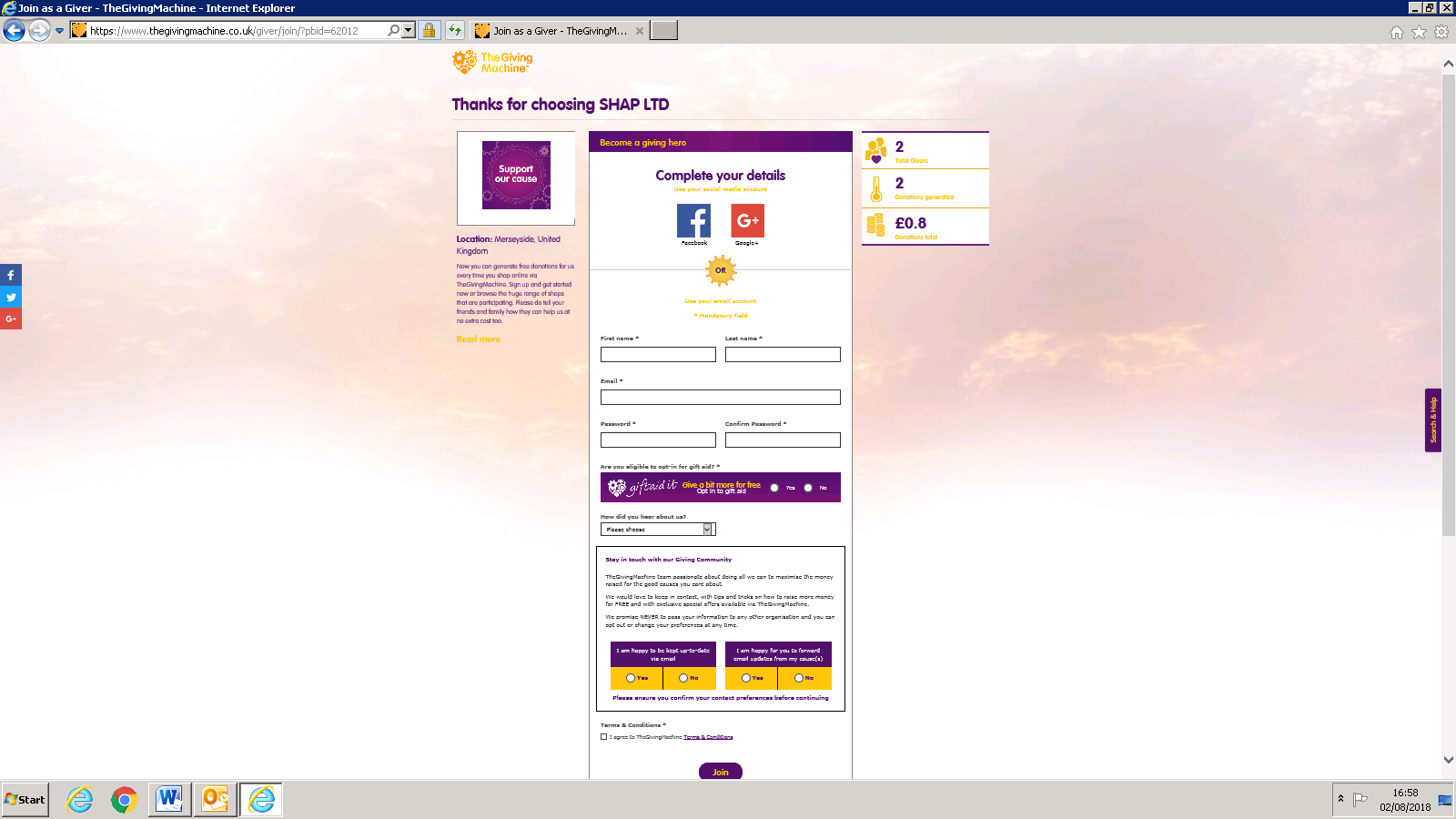 Once you're signed up and you start shopping those organisations that are using The Giving Machine will have a pop up icon in the corner like the one below. You just need to click on it to continue shopping and donating. You will however, need to sign into your account on each device you use (e.g. if you signed up on your phone it doesn't automatically pop up on your PC/IPad etc.).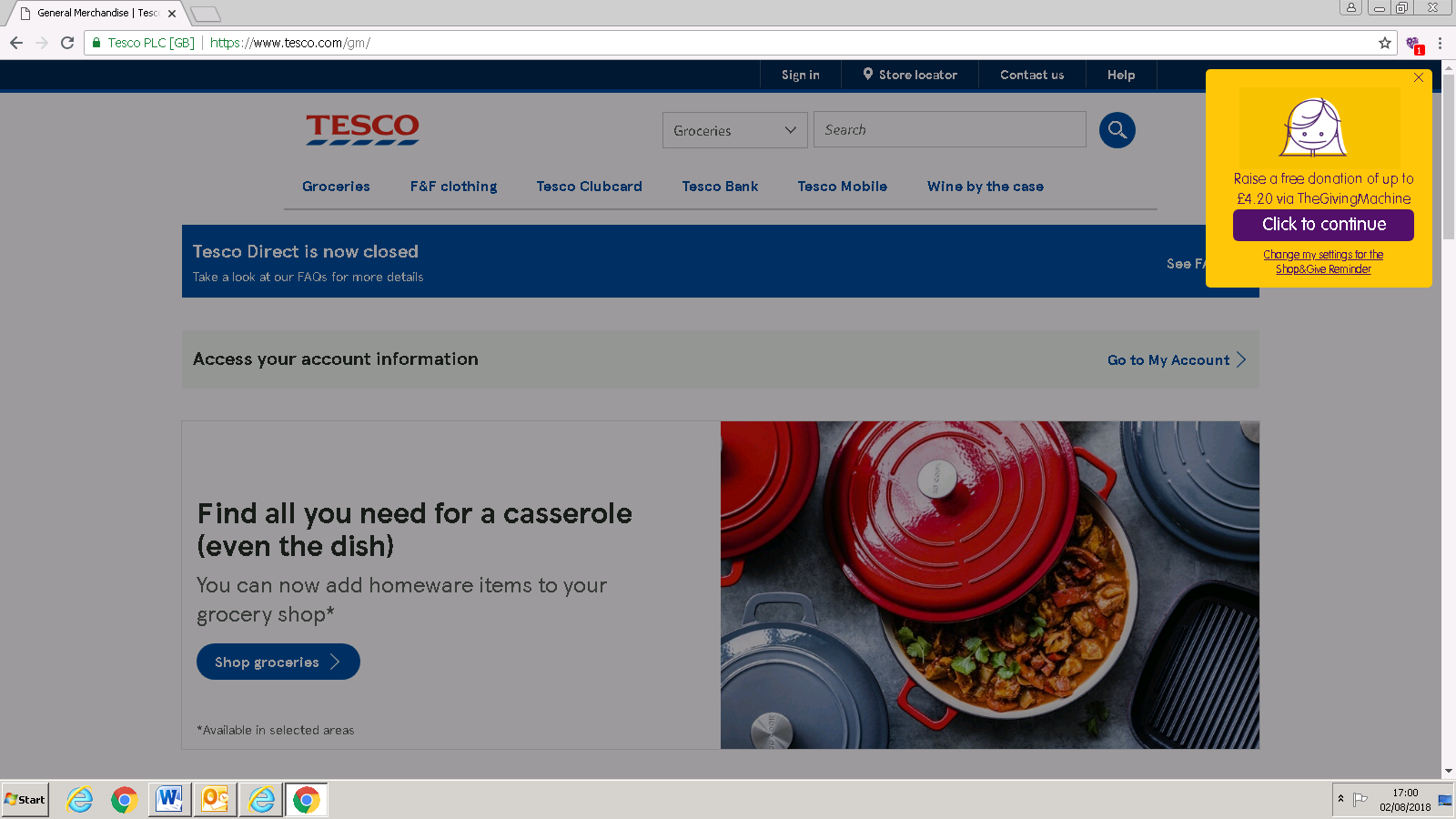 Amazon Smile
Amazon Smile is similar to the Giving Machine. It is a website operated by Amazon with the same products, prices and shopping features. Your shopping experience stays the same, but every time you shop on AmazonSmile, Amazon donates 0.5% of the purchase price of eligible products to your chosen charity. The good news is shopping with AmazonSmile doesn't cost you, or your chosen charity, any extra.
If you already have an Amazon account, you can begin shopping instantly.
Go to amazon.co.uk and log in as you would with Amazon.
Go to Your Account
Select Change your Charity
In the search box type Shap Ltd
The main thing to note with Amazon Smile is you always need to purchase your items through smile.amazon.co.uk rather than the main Amazon site.
If you use the Amazon app:
Shop on the app as you would normally, adding items to your basket
Before you checkout, switch to amazon.co.uk on your mobile browser to complete the process.
If you use an Apple device:
Visit amazon.smile.co.uk in your Safari browser
Tap the share button and scroll right to select 'add to Home Screen'
Click add and then delete your old Amazon app.
£5
Provides one night in a hostel
£10
will pay for a starter pack of 'essential items' for a homeless family / young person moving into their own home
£30
Pays for a removal van for young person moving into their own place 
£50
Will help with the cost of a week's shopping for a small family
OR
Will help contribute towards a week's rent for a homeless young person