SHAP is a value based charitable organisation that strives to make a real difference for people and communities. The organisation grew from concerns about the needs of young homeless people in St Helens in Merseyside in the late 1970s, when a group of local people and representatives from agencies such as Social Services and the Local Authority formed a committee to look at what could be done.
After some temporary solutions, including a maisonette where young people were supported by volunteers, we opened our first hostel in 1981; an eight bed hostel to support young homeless people. The aim was to not only provide them with somewhere to live and a period of stability, but to give them the knowledge, skills and opportunities they needed to live independently.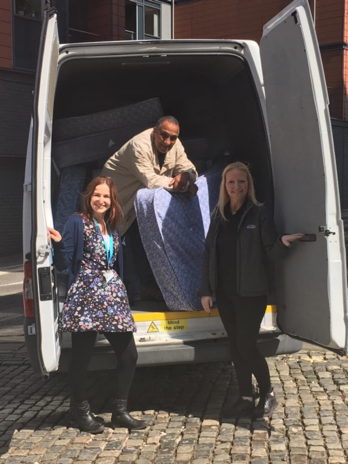 1985
SHAP registered as a Limited Company.
1989
St Helens Accommodation Project, as we were called then, embarked on a development programme – we wanted to provide a wide range of housing with support options for young and vulnerable people, enhanced by accessible and positive services delivered in an anti-oppressive way.
1999
SHAP became a Registered Charity.
Present
Today we have a range of accommodation and services, and have also extended our work into the neighbouring Boroughs of Knowsley, Halton and Liverpool. Our partners include:
Livv Housing Group
Riverside Housing Association
Regenda Homes
Onward
Liverpool Mutual homes
Halton Borough Council
Liverpool City Council
Knowsley Metropolitan Borough Council
St Helens Council
and the five boroughs partnership.
From our beginnings as a single, 8 bed hostel, SHAP is now a highly regarded, innovative, practical and financially viable charity and voluntary organisation that works to sustain communities, reduce homelessness, increase the health and wellbeing of vulnerable adults and young people and improve the life chances of the next generation. Within Merseyside we provide:
accommodation, support and floating support services for vulnerable and socially excluded single adults
accommodation, support and floating support services for lone parents and couples with children who need support to improve or enhance their parenting skills and to secure permanent accommodation
a residential family centre which monitors and assesses parents' ability to respond to their child(ren)'s needs and to safeguard and promote their welfare
specialist accommodation for individuals who misuse alcohol and have complex needs
private rented accommodation for those who are unable to access local authority properties and cannot afford to purchase their own home
short-term emergency accommodation for homeless single people and families on behalf of a local authority
Gypsy and Traveller Needs assessments on behalf of a local authority
personal / 'life' coaching for vulnerable and socially excluded adults who wish to address unhelpful patterns of behaviour and move their lives forward
welfare benefits advice
advice, support and resources to members of the Black, Asian and minority ethnic communities
advice, support, resources and resettlement services to refugees
Supported Lodgings for previously looked after children, linking them to private householders and offering them accommodation in a family setting, preparing them for their eventual move on to independence.